"I open the divine Scripture, I engrave his words in the wax of my heart, and suddenly his grace comes my way. " (Aelred de Rievaulx, a Cistercian monk of the twelfth century)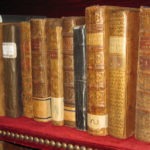 Monastic life is a journey of listening … Listening to the Word of God, especially what the monastic tradition calls "lectio divina". "Lectio" is a slow reading, "savoured", "chewed", "ruminated" of the Bible and the writings of the Fathers of the Church. It makes us reflect, meditate. It is intended to bring us into communion with God, who speaks to us very personally. The Word of God read, read again, "listened to" and constantly welcomed again to get to know that which we seek and which is revealed in the Scriptures, is a school of prayer, light and strength on our way.
We spend time in the scriptorium between 5 and 9 h and between 18 h 30 and 19 h 30, depending on the availability of each nun. During Advent and Lent, we are all together from 8 h 35 to 9 h 10 for silent reading.
"An assiduous "lectio divina" greatly favours the nuns' faith in God. This excellent exercise of monastic life is a source of prayer and a school of contemplation where the nun speaks heart to heart with God. "(Constitutions of the Nuns, Chapter C.21: "Lectio divina")