"In 1892, three congregations from Valsainte, by uniting, formed an autonomous Order, the Order of Reformed Cistercians of Our Lady of La Trappe, now called the Cistercian Order of Strict Observance. '(Constitutions of the Nuns, Foreword 2.)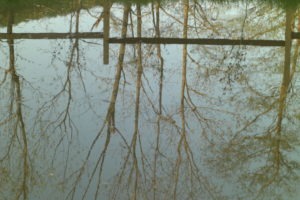 The Abbey founded in Baumgarten In 1125 by the Bishop of Strasbourg, Cunon of Michelbach, was built in a remote but unhealthy place. Cistercian monks from Beaupré Abbey in the Vosges, settled there in 1148. Significant donations were made to the abbey in the twelfth and thirteenth centuries. But in the fourteenth century the monks had to face huge financial problems, which forced them to sell their precious manuscripts in 1426.
The disastrous financial situation inevitably had repercussions on their spiritual life. To find a solution to both problems, the General Chapter of the Cistercian Order of 1426 asked some monks from the Abbey of Neubourg (Alsace) to go to Baumgarten.
Around 1450, the Armagnacs ravaged the country. Baumgarten was plundered and burned.
The sixteenth century would see the final devastation of Baumgarten.
Final ? Nothing is less certain …